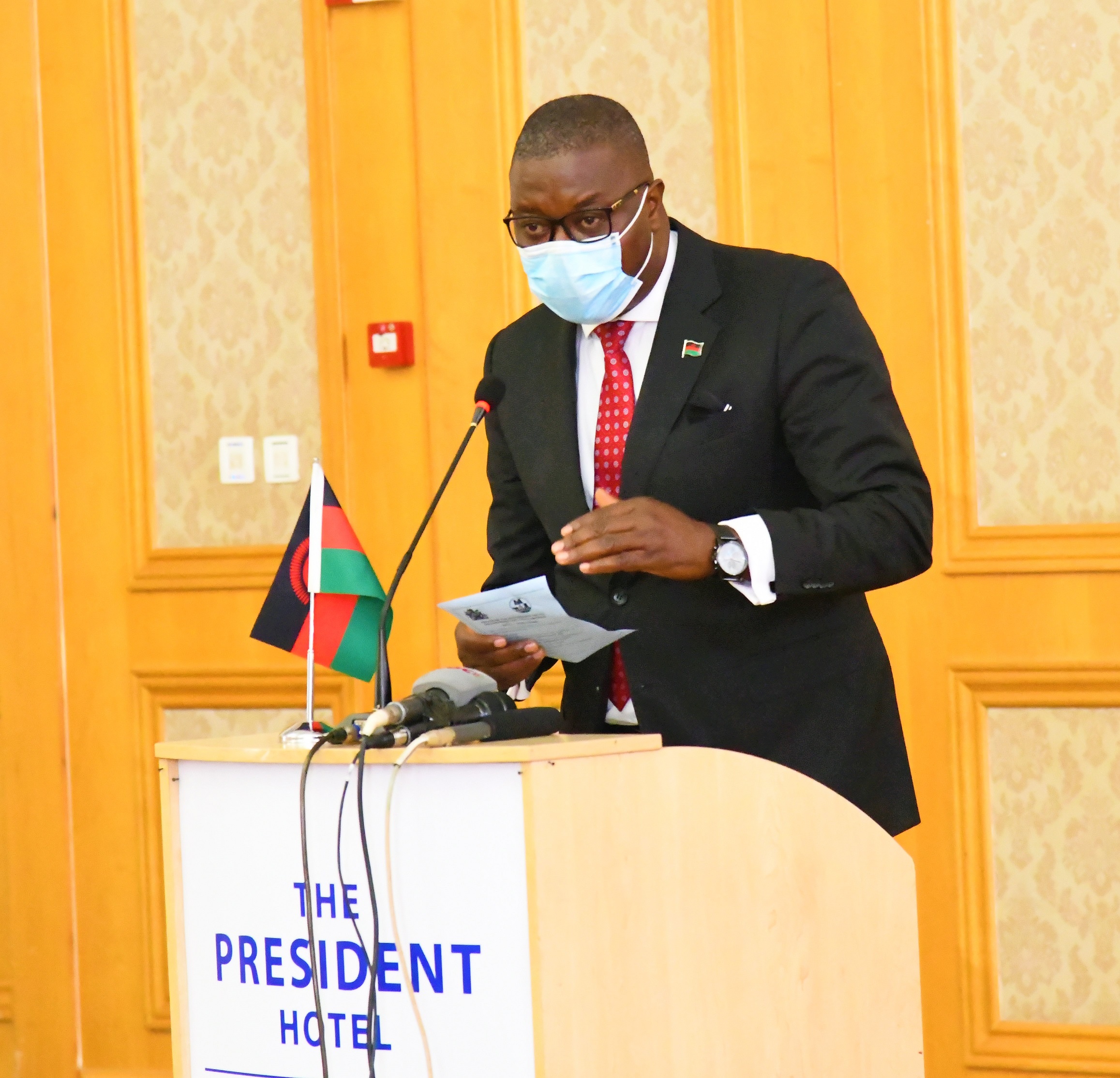 President Dr. Lazarus McCarthy Chackwera, recently launched the ground-breaking of the expansion of Kenyatta and Mzimba streets to multi-carriage ways. MPHATSO NKUONERA of Malawi News Agency (MANA) talks with Minister of Information and Government Spokesperson GOSPEL KAZAKO to explain on this, and other issues. Experts:
1.     President Chakwera today launched ground breaking works of upgrading these two routes, what does this tell to Malawians out there?
First let me say this is just the beginning of change. Citizens have spoken that this government it not doing enough on development. We firstly wanted to fix hunger, because we need people that have eaten to take part in developing this country. You cannot go to school or think of any individual or community development projects on an empty stomach. So our priority was food hence the birth of AIP.
2.    Road Authority has publicly spoken against saboteurs, who derail and delay speed of government projects due to corruption which prompted the president to instantly warn corrupt officials. What's your take?
It's sending a signal not only to those people who do vetting, operating IFMS but also the entire civil service there are certain areas that people just choose to be slow, to frustrate people and sabotage government. We want to deliver things that the people in Malawi have trusted us do for them. So we will not tolerate anything that will be seen to be a spanner in our work. The president has made it very clear that quality must be our guiding principal. Government is not slow as others think. This project is also part of the creation of one million jobs.
3

           

What could be your advice to citizens who have reservations with the tollgates?
It's a new thing and we understand on the citizen's resistance. We are a listening government, this why we have pushed the dates for it to start operating from 1st September to 1st October, 2021, so that we listen to them, and the citizenry also hears us out and understand the importance of these tollgates. Wherever you go and find beautiful road networks like USA, Britain, South Africa, and even our nearest neighbour Zambia, they all have tollgates. To min-bus operators, if anything they must reduce their transport fares and not increasing, because maintenance costs will reduce as the resources we are going to generate will be used for quality maintenance of the roads, hence less accidents and less vehicle maintenance not as it is the situation now. We have started with two but several others are coming.  This is a good development, and we must embrace it.
4

   

People have asked as to when the gaps in the cabinet will be filled, what's you take

?
I will not comment on matters to do with cabinet, and my responsibility ends at me being Minister of Information and government chief spokesperson. Matters to do with cabinet by law falls under the jurisdiction of the state President. So you will excuse me, but people must have trust in this government. We have a very responsible president.
5

   

AIP has been one of the great achievements of Tonse Alliance led government, recently farmers have raised fears after noticing an increase of the inputs on the market, what's your take?
The president has made it very clear that he will stand for farmers and has assured Malawians that fertilizer price will be reduced. This is a president that when he speaks it happens. Fertilizer is a security product; it makes food security possible which is on the heart of government to see its citizens' food secure. The president said as far as the one million beneficiaries, the figures will not change, despite others asking for reduction of the figures. This is because the president made it clear that he will make farmers get rewarded for their sweat. For now, just look at how much money soya beans and other crops are fetching on the market. Everything will be normalized. As far as the further details of the AIP is concerned, government will communicate formally when everything is due.
 6    There are concerns on the boom of illegal mining, and cross border dealers have flocked to these mineral sites to play business. What is government doing to protect this treasure bestowed on Malawi?
Government is working on changing our mining policy, which is very cardinal. You know the president made very capital changes in how we approach our mining sector. We will deal with this problem once and for all. We want Malawians to appreciate this and every other policy that might come into place, that is why we do everything with finality.  We don't want to be scratching on the back by doing something that we are not sure off.
7

 

Any other information to share with the citizens as we wrap up?
For the first time after 26 years, we have a very good government, a very good president, a listening government, and for the first time, we are going to develop this country against all odds. Yes, it will be tough and there will be challenges, that is unavoidable, but we are very determined. With this leadership, there is no room for failure.